If you are just tuning in I was in a group erotic show at Venus Envy which is an awesome local sex shop here in Ottawa. The show was up all of January but is now coming to an end. The Vernisage was a blast. Along with the amazing art there was great music, food, drinks and tons of nice people.
I wanted to share some of my insights and challenges as an artist after finishing up my first erotic art show.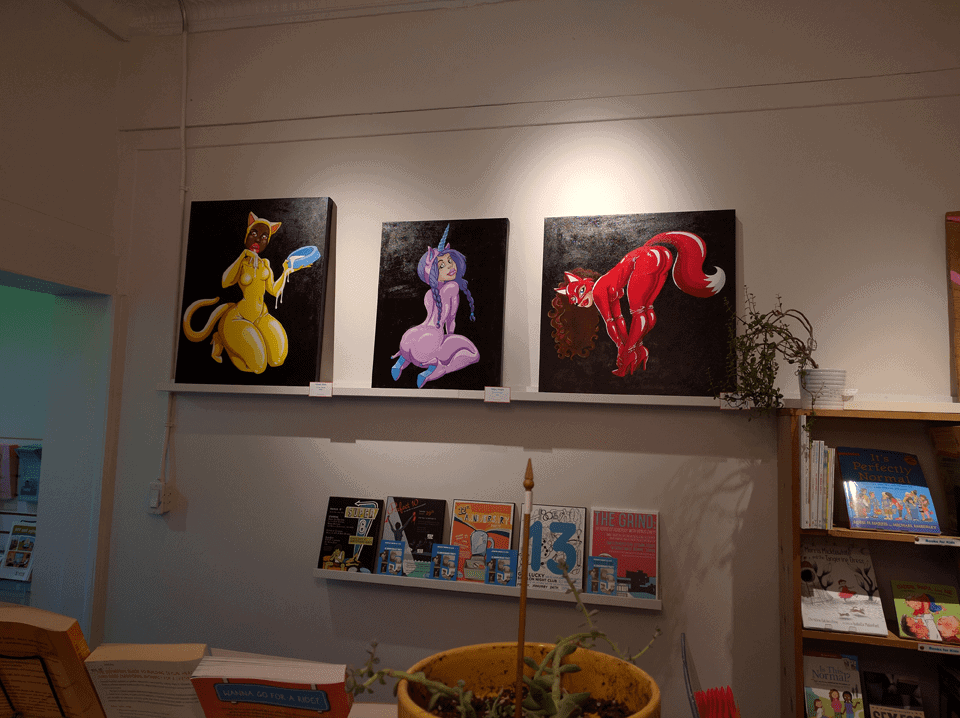 Insights
Amazing venue
Venus Envy is a sex positive LGBTQ friendly sex store. they are focused on pleasure, but also sexual health and education. I'm very passionate about sex positive sex education, so this venue was a perfect fit for me! It was also really fun to have my art up on the same wall as dildos, vibrators and bondage gear  😉
The show was a fundraiser for the Venus Envy Bursary Fund, which is a Bursary to help pay tuition for anyone committed to anti-oppression, sex positivity, and community building!
The curator, Shelly, did an amazing job putting the show together. She was so helpful, enthusiastic and kind. She was always easy to contact before the show to answer my questions, and was just as friendly when I met her in person at that night.
First Erotic Show in Ottawa
I've been living on Ottawa for a little over a year. Since I moved here I've been finding my place in the artistic community. I took a chance and "cold called" (cold emailed?) this venue about having a solo show. They didn't have space for a solo show in 2015 but I was immediately invited to join this group show! It was very motivating to have someone I've never met before enjoy my work so much they invited me to join a group show.
The fact that it was a group show took a lot of pressure off me. I didn't have to do all the promotion, plus all the logistical aspects (venue, food, music, payment) were taken care of!
Challenges
I didn't meet many new people
I didn't really get to meet and network with other artists. The show was packed, which was cool, but that meant I couldn't easily strike up a conversation with strangers. It also seemed everyone came with their own group of friends for support (me included) so it was easy to stay in our bubble. There wasn't a pre-show meet and greet, so I didn't know exactly who the other artists were. We were thrown into a whirl wind of music and partying, it was hard to tell the artists from the audience.
I didn't sell any of my paintings
My pieces were up for a month and none of them sold. I'm really happy with them, I don't think the quality of the work is to blame, nor the price of the pieces. But I am still an emerging artist, so I didn't have a strong fan base coming to the show specifically to see my work.
There are a few other factors I think may have affected my sales
After the Holidays
This was an January show, so there is the obvious factor that people have already spent so much over the holidays, they usually don't use January as their time to look for Art.
 The staff are busy selling the sex shop products
I'm not sure if the staff are trained in selling art. The staff at this shop always make you feel comfortable when you walk in. They give you your space, but are also happy to discuss any product or answer any questions you might have. This is great for selling sex toys, but that means unless someone asks about the art on the walls they aren't going to learn about the pieces or the artists.When someone wants to buy art they don't just want some pretty thing for their wall, they want a piece that means something too them. Since this is my first time participating in a show at this venue the team working there didn't know as much about me as other artists who have previously exposed. They could only repeat the biography I sent them, but they couldn't really talk about my motivation for making these pieces (which I have a lot of!)
Not the right venue for my work
As I mentioned before, this is a great sex positive, LGBTQ friendly store, but perhaps my very cartoony, illustration style doesn't fit with their audience. I mean, some of my influences are Heavy Metal Magazine and Playboy, not the most progressive examples of erotica. ;)I always thought my art would appeal mostly to women, because I love cute, cartoony porn and I'm a woman. But as I get more and more fans on facebook I've noticed that I have way more male fans (hi guys!). This isn't a problem, not at all! But it just means I need to think about the places I'm showing my work and if I'm connecting with the right audience
Final Thoughts
I would do a show like this again in a heartbeat. I loved seeing my work alongside other great artists with incredibly different styles to my own. But now I need to think about showing in venues where my fans would hang out. Ottawa is a very small city, and we don't have many alternative/lowbrow art galleries, (by "we don't have many" I mean "we don't have any"). I might have to look outside the gallery venues and focus on other alternative shops. Maybe another sex store, or tattoo parlor? I'd love to do a series of sexy tattooed girls and I could really see them on the walls of a tattoo parlor.